Design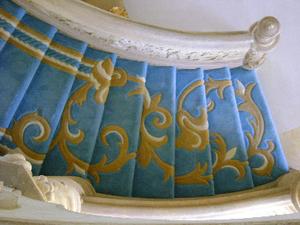 Enhance any space in your home with your very own, one of a kind area rug today. The design process can be conducted over the phone, through e-mail, or in person. Regardless, you will always have access to Design A Rug's fully qualified Design team, which will provide a full design service and help you every step of the way.

Step 1: Design Consultation
Contact us either through phone or e-mail to set up an initial Design Consultation with a member of the Design team. Our team will be interested in hearing the colors and designs that you have seen thus far that best match your design scheme. Furniture and room dimensions and layouts are also required.
Step 2: Design Review
After the Design Consultation phase, our Design team will take your style, colors, size, layout, and budget into account and create one or several sample designs that are drawn to scale and color rendered. Sample color swatches and the scaled colored renderings will be sent to your home along with the confirmation of your order. This way, you can see exactly what the finished product would look like.

Step 3: Design Modifications
Once you review your design, you will have the opportunity to make as many design, size, and color combination changes as necessary until you are completely satisfied with the design of your area rug. After your order is confirmed, your area rug will be shipped within three to four weeks of purchase.
Design A Rug products are 100% guaranteed for quality and workmanship. Order with confidence and enjoy your work of art.