Our Story
35 Years of manufacturing right here at home
Design A Rug is owned and operated by a talented husband and wife team. Ali R. Amjadi (Boston University, M.A. Engineering) operates the manufacturing aspect of the business, while his wife Mahvash Jalili Amjadi (Farnham College for Art and Design, M.A. Product Design) uses her talent and background to create the original, custom designs for Design A Rug. Mahvash previously worked as the head designer for Zarach Limited in London, where she gained valuable experience. Since 1983, Ali and Mahvash have built a successful business with an outstanding reputation for customer service. Their work can be seen in many exclusive model homes throughout South Florida.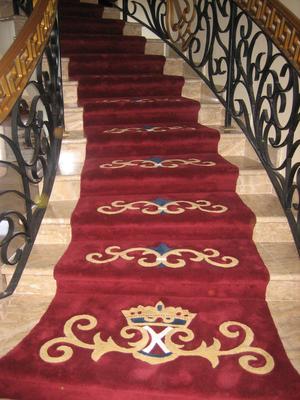 Clients come to Design A Rug expecting the best there is and knowing that they can custom design their area rugs to suit any décor, size, color scheme, purpose, and budget. Many have been recommended by their friends who have purchased from Design A Rug before. And in most instances, clients find Design A Rug having already heard of Mahvash's talent in creating gorgeous, unique, designs.
Design A Rug is totally committed to quality. The manufacturing of all the rugs is personally supervised by either Ali or Mahvash. They have made this possible by having their large manufacturing plant in the same location as their show room. Mr. Amjadi, President of Design A Rug, hand picks and trains the rug technicians himself. And the most important aspect of his business is that every person in DAR feels like they are a part of the family.
Currently, Ali and Mahvash Amjadi reside in Boca Raton, FL. They have two daughters, Layla and Raanah. Layla (Harvard University, B.A. Government) is currently a Product Manager for Facebook in San Francisco, CA. Raanah recently graduated from Duke University (B.A. Sociology, Markets and Management) and will be working for Microsoft as a Marketing Communications Manager.